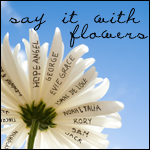 Say it with flowers - I love this photo so much and I am amazed at the beautiful work that Sarah and Richard do to honour their baby brother Rory. Please make a donation to them so they can continue to support parents whos babies have died too soon.
To write their names in the sand - I would like to thank Carly for the wonderful photos of my daughters names in the sand above. They offer this caring service to bereaved parents to honour their childrens lives. Please take the time to read their story and make a donation so they can continue their amazing work.
Written in the Stars - I would like to thank Amanda for these beautiful pictures of Charlotte and Mariannes names in the stars. Amanda lost her daughter ~Ireland~ at 15 weeks gestation and started this site because she had no memories of her daughter and wanted to offer a service to other parents to honour their children.